SIGILLUM S "Non Serviam" Trilogy out on April 16th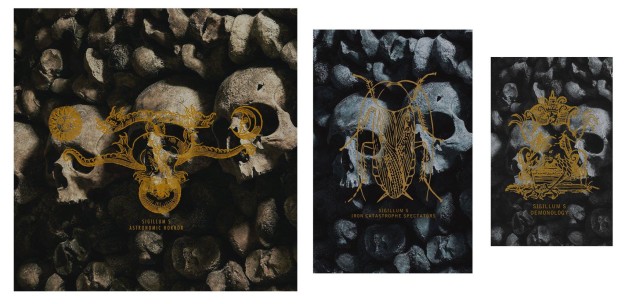 After quite two years of work the trilogy is finally here. The 30th anniversary covers as usual the artwork has been created by Petulia Mattioli and they are printed on heavy metallic paper with warm gold printing. 
Each output is a different album celebrating 30 years of explorations, no tracks are in common. Preorders have been mad.
From left to right:
"Astronomic Horror", 100 copies limited edition vinyl for the noise gods.
"Iron Catastrophe Spectators", 300 copies limited edition cd featuring  
Ted Parsons
 (Swans, Godflesh, Jesu, Prong) on drums to summon the rhythmic side of energies….a few are left…
"Demonology", 50 copies limited edition tape digging into the depth of rituals….ops this is already sold out!
We also made a ltd edition of 3 t shirts, one for each output.
Please note: no reprint, no digital downloads.
Release date: 16-04-2016